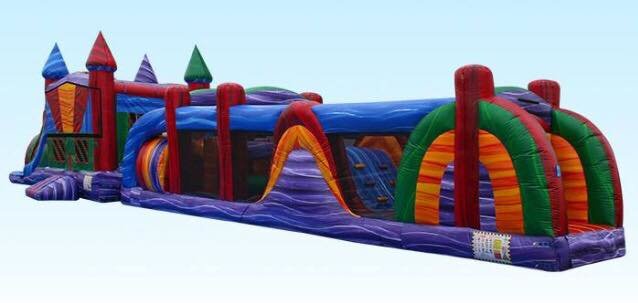 65ft Obstacle Course
Great to keep the kids moving! This 65 foot long obstacle course is great for events big and small. Keeps crowds moving through fast, keeping wait times low! 2 people race through side by side, see who has the endurance to make it to the end first! Better for ages 5 and up who can make it though fast to keep your lines moving. If you don't care about wait times, its great for any age! This unit truely has it all, climbing walls, tunnels, bounce house, 2 slides, what more could you want!
PRICE: $600.00 delivery/set up/take down included in price. Tarp and extension cord also included. No tax. Must be located within our delivery area.
OCCUPANCY: About 10 children or 1000lbs
SIZE: 60ft x 15ft x 15ft
This system is for confirming your reservation; we do not take deposits because if the weather is poor your event can simply be cancelled the evening prior. Payment is taken once your items are delivered to you. You may pay by cash or use our interac machine +3%.