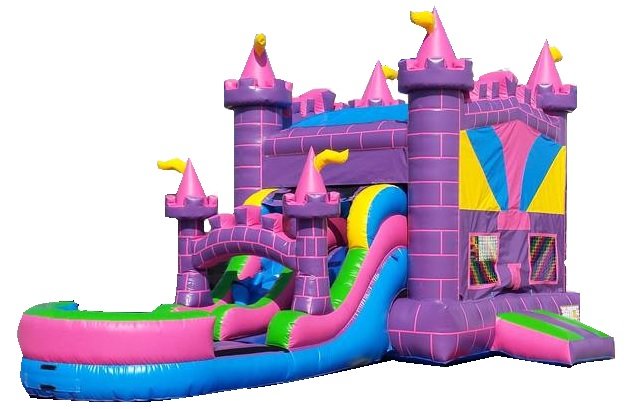 Candy Castle Water Combo
PLEASE NOTE: The cut off date for water rentals is SEPTEMBER 19th, any orders placed after this date will be cancelled!
The CANDY CASTLE WATER COMBO is sure to be a hit! THis eye catching colourful castle also has a basketball net inside the big jumping area. Pick a slide to slide down because there are 2 lanes going down before you crash onto the inflated pool bed. Water will mist the slide for a fun ride down! No deep pool at the end to worry about, water puddles on the inflated pool bed.
FIRST DAY OF WATER RENTALS FOR THE 2021 SEASON IS JUNE 1ST, IF ON THE DAY OF YOUR RENTAL IT IS TOO COLD AND YOU DO NOT USE WATER ON THE UNIT, YOU WILL BE CHARGED LESS.
PRICE: $360.00 delivery and set up included, tarp and 50ft extension cord also included. no tax
OCCUPANCY: About 10 children or 1000lbs
SIZE: 13 ft wide x 23 ft long x 15ft high
This checkout system is for confirming your reservation. WE DO NOT TAKE DEPOSITS because if the weather is poor your event can simply be cancelled the evening/day prior. I call every customer the day/evening prior to your event to confirm your order, give you an estimated delivery/pick up time as you r unit could arrive much earlier and be picked up much later than the time you selected. Our goal is to give you as much time as possible depending on the delivery truck route that day. You will get a confirmation email right away after making your reservation online. We take full payment when you items are being delivered. Delivery personnel take cash (preferred) or credit/debit cards with our mobile interact terminal. You may also pay by Email money transfer the night before to beambouncycastles@gamil.com