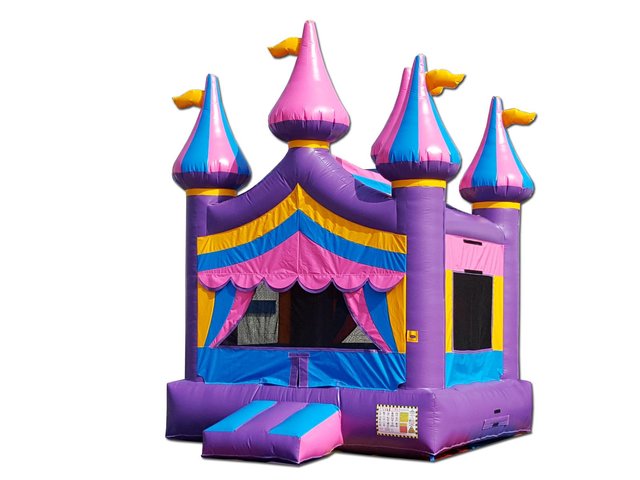 Fairytale Castle
The Fairytale Castle is approx 13 feet x 13 feet and 14 ft tall. Eye catchingly colourful, perfect for anyone on their big day! No slide, all bounce area to burn energy your party goers will have after they see this amazing bouncy castle. This unit has a roof to shade the sun on those hot sunny days.

PRICE: $250.00.00 delivery/set up/take down included within our delivery area. Tarp and extension cord also included. No tax added.
OCCUPANCY: About 8 children or 1000 lbs
SIZE: 13ft wide x 13ft long x 14ft high
POWER: 1 regular house hold power outletThis checkout system is for confirming your reservation. WE DO NOT TAKE DEPOSITS because if the weather is poor your event can simply be cancelled the evening/day prior. I call every customer the day/evening prior to your event to confirm your order, give you an estimated delivery/pick up time as you r unit could arrive much earlier and be picked up much later than the time you selected. Our goal is to give you as much time as possible depending on the delivery truck route that day. You will get a confirmation email right away after making your reservation online. We take full payment when you items are being delivered. Delivery personnel take cash (preferred) or credit/debit cards with our mobile interact terminal. You may also pay by Email money transfer the night before to beambouncycastles@gamil.com
Please note we do not deliver to all of Hamilton county- Waterdown, Millgrove, Carlisle and further away from the city of Hamilton is not our service area. Any orders placed in that area will be cancelled.